As a business owner, you've learned that anything can happen. You've also learned ways to protect your business from financial hardship and undue liability. That typically means you have a few business insurance policies at work keeping your liability down and giving you peace of mind.
As you dig through your coverage options, you may come across an option known as business owner's policy (BOP) insurance.
This is a specific type of insurance that's typically best for small businesses with minimal liability. However, if your business qualifies for such a plan, it can consolidate the insurance process, bringing more simplicity to your coverage. But what is BOP insurance, and how can it help your business? Read on to learn more.
What Is BOP Insurance?
BOP insurance, also known as business owner's insurance, is a unique type of insurance coverage that's specifically designed for small businesses that don't experience high levels of liability.
These policies combine the properties of business liability insurance policies and business property insurance policies, offering you multiple levels of protection from a wide range of covered events.
That means that if your business qualifies for a BOP insurance policy, you don't need to have multiple policies that cover property and liability. You can consolidate your coverage, typically saving money in the process.
These are particularly strong options for small companies that rent a workspace or those who work with clients that require their vendors to have liability insurance. But those aren't the only reasons you might consider a BOP policy.
What Does BOP Insurance Cover?
As mentioned above, BOP insurance is a hybrid product that combines the properties of liability and property insurance policies. As such, these policies provide a wide range of coverage. Here are the types of coverage you can expect: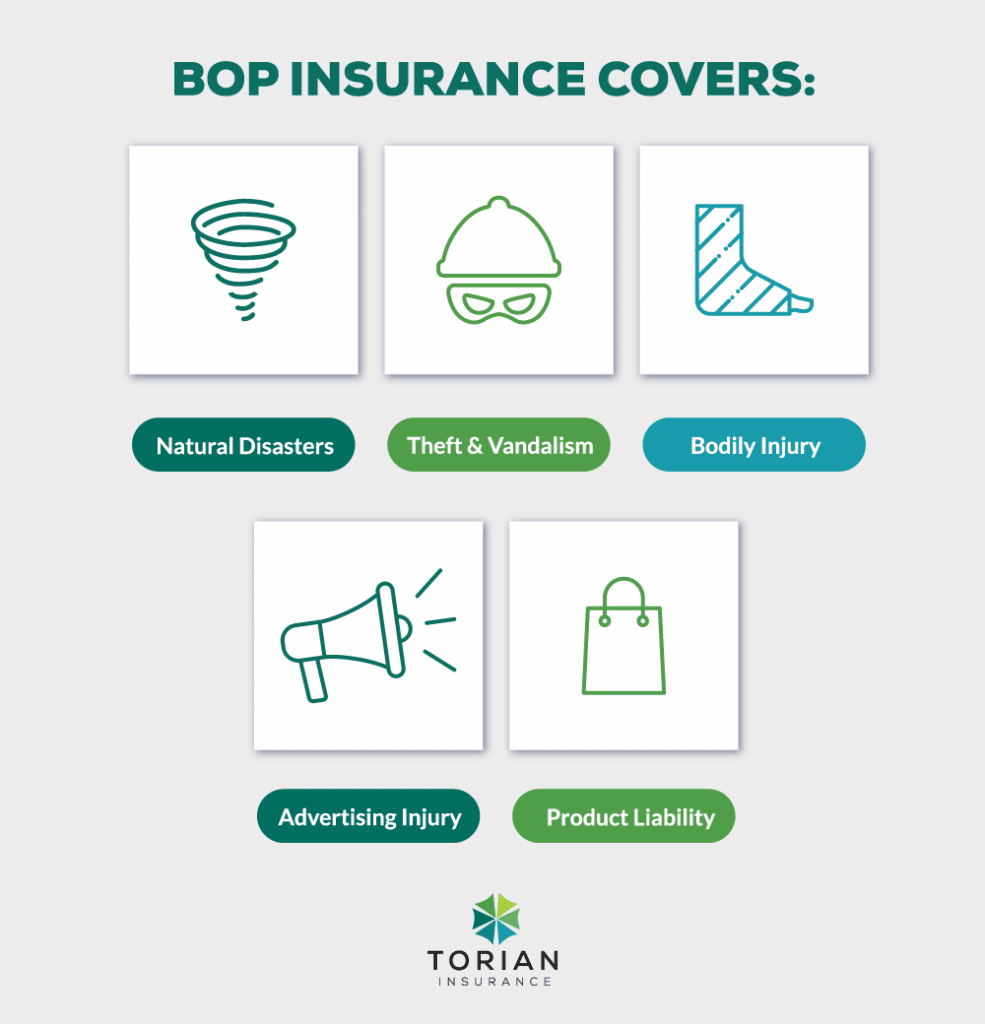 Natural Disasters: Natural disasters like fires, hurricanes, and tornadoes can cause significant damage to your business' property. This can cost tens or even hundreds of thousands of dollars. BOP insurance policies typically cover damages resulting from natural disasters.
Theft and Vandalism: BOP insurance also covers you in the event of financial damages as the result of theft or vandalism. Simply report the theft or vandalism to the police and have your police report handy when you file the claim.
Bodily Injury: Accidents happen, and when they do, a bodily injury could be the result. If that's the case, your BOP policy will cover your damages.
Advertising Injury: False advertising claims can get expensive. However, if you have a BOP policy, you may be covered in the event of advertising-related financial settlements.
Product Liability: If someone is injured using your product or your product causes damage to someone else's property, you may be on the hook for the bill. The good news is that BOP insurance covers product liability claims.
How Much Does a BOP Insurance Policy Cost?
BOP insurance is relatively inexpensive when you consider the extent of coverage it comes with. In fact, the average business will only pay between $500 and $2,000 per year for liability and property protection with these plans.
However, your price may vary. As is the case with all insurance policies, the insurance companies that write these policies must consider the individual risk associated with each business they insure. Unique risks ultimately lead to unique price points. Some of the most important factors that play a role in the price of your premiums include:
Your Industry: Some industries are excluded from BOP policies altogether (we'll talk about that in more detail later). If your business does qualify for a BOP plan, the industry you're in and the risks it poses will be taken into account when calculating your premiums.
Your Property: BOP insurance covers property damage. As such, the more property you have, the higher you can expect your premiums to be.
Your Location: The cost of goods and materials varies across the United States. As such, the cost of your insurance premiums will vary by location as well.
Your Deductible: As is the case with other forms of insurance, as your deductible shrinks, your premiums rise.
Who Is BOP Insurance Right For?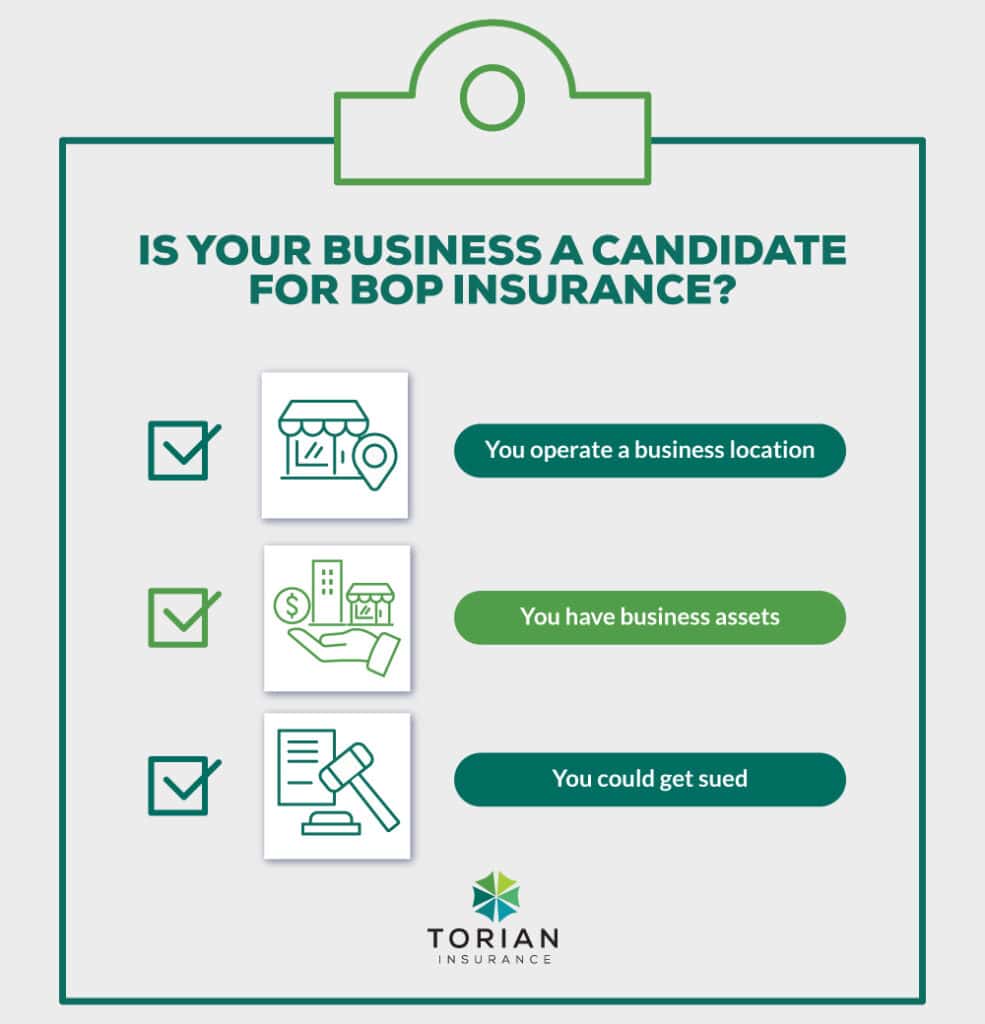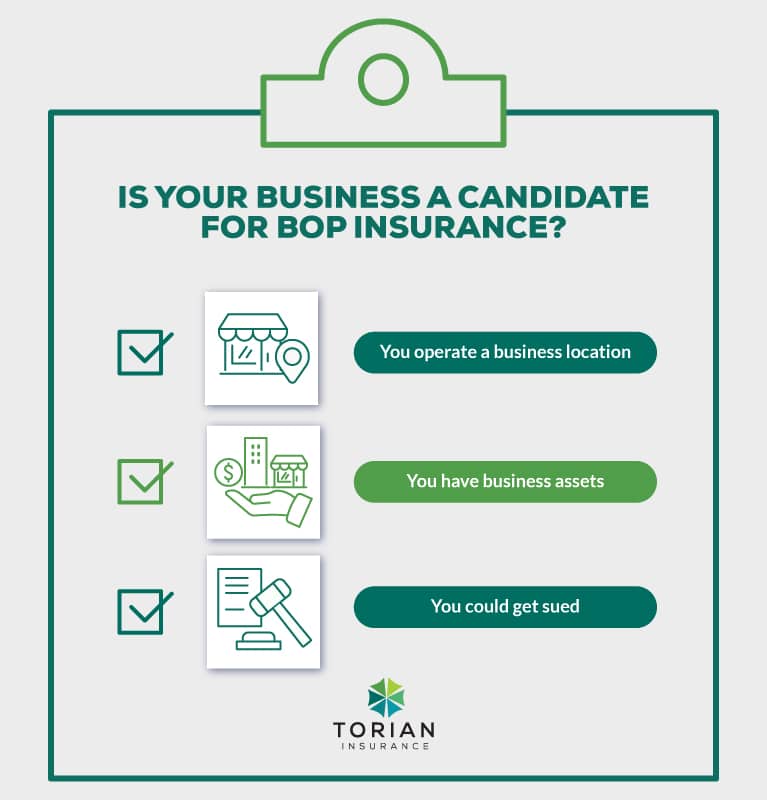 BOP is a strong option for small business owners in low-risk industries who are interested in saving money by consolidating their business's insurance coverage. There are three core reasons you should consider a BOP insurance plan.
You Operate a Business Location: Operating a business location opens the door to risk of accidents and injuries at your location.
You Have Business Assets: Business assets can be stolen or damaged, costing you money in the long run.
You Could Get Sued: You may operate in an industry that requires a fiduciary responsibility or you could even face marketing lawsuits.
BOP insurance helps alleviate the risk of significant financial pain as a result of the events listed above.
Why Your Small Business Could Benefit From BOP Insurance
BOP insurance comes with several benefits. Most small businesses who sign up for these types of insurance policies do so for the following perks:
Reduced Insurance Costs: When you have multiple insurance policies, it's highly likely that you'll pay more money in total than you would if you had a single BOP policy. As a result, switching to BOP insurance can save you money.
Easier Management: Because BOP insurance policies consolidate insurance products, they offer easier management of your plans. You only need to pay one bill and remember one company to call in the case of a covered event.
Meaningful Coverage: BOP insurance policies cover property and liability-related damages. That's meaningful coverage regardless of what kind of business you operate.
Are BOP Policies Industry Specific?
Most BOP insurance policies are industry specific. That's because each industry is unique and needs unique points of coverage. For example, some of the most popular categories for BOP insurance include:
Auto BOP: Auto dealerships have a unique set of risks. For example, these companies allow their clients to test-drive vehicles, opening the door to liability and property damage. As such, there are BOP policies designed specifically for the auto industry.
Food BOP: If your business is in food service, it's exposed to risks like food-borne illness-related liability, slips and falls in the kitchen, and more. Food service BOP insurance plans include specific coverages related to this industry.
Service BOP: The service sector is an interesting one, especially when you provide a fiduciary service or you provide services in homes and offices. Service BOP insurance policies provide you with the unique coverage you need. This is whether you accidentally breach a fiduciary obligation, or make a mistake that damages a customer's property.
Retail BOP: Retail businesses also experience a unique set of risks. Slips and falls and other toxic tort obligations could result in significant damages.
These are just a few examples of the industry-specific BOP insurance policies that are available. If your industry isn't listed, chances are, there's still a policy that you could benefit from as well.
Can You Customize a BOP Insurance Policy?
Your business is as unique as you are. That means it has a unique set of risks and a unique financial standing. A quality BOP insurance policy should be just as unique.
Although these policies are typically industry-specific, they include various features that can be adjusted to your needs. For example, if you run a roofing service, the standard service BOP may not fit well for you. After all, your business experiences additional liability as the result of the use of power tools and work being done well off of the ground. A quality BOP policy will include all the coverage you need regardless of these unique aspects of your business.
Eligibility Requirements for BOP Insurance
BOP insurance is a specific type of policy that not all businesses will qualify for. Your business must meet the following eligibility requirements to sign up for one of these policies:
Small Business: Your business must have fewer than 100 employees and earn less than $1 million in revenue per year.
Office Location: You must have a small office or workplace to qualify.
Industry: BOP insurance is only available if you operate in a low-risk industry like food service, accounting, or auto detailing.
Business Interruption: BOP insurance typically includes less than 12 months of business interruption insurance.
Get Started With a BOP Policy Today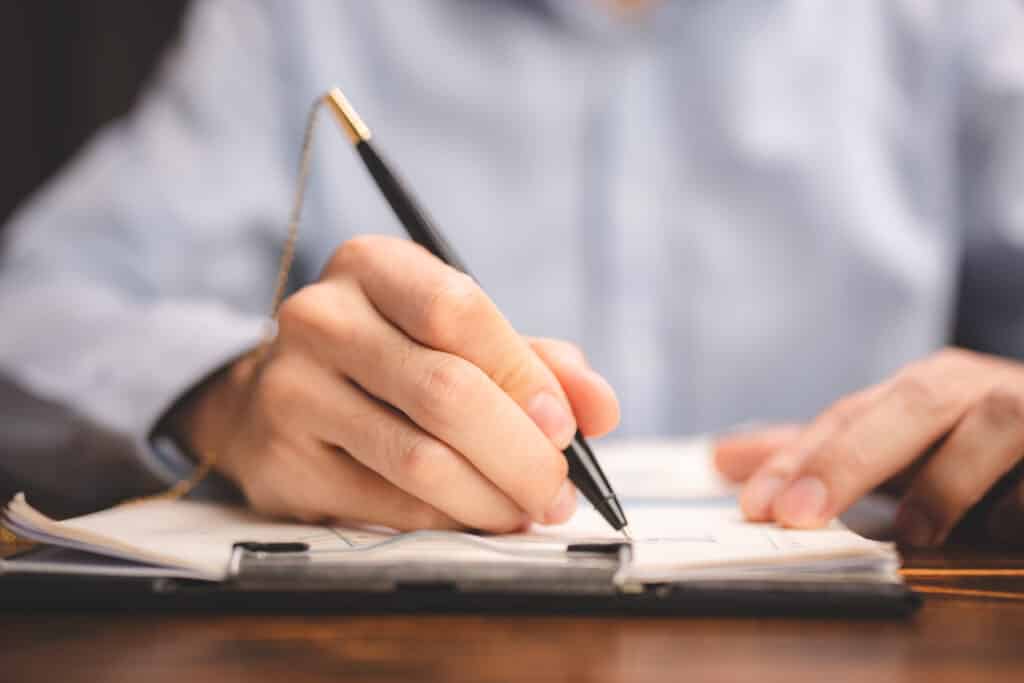 If you're a small business owner who's interested in consolidating their insurance needs, it's time to get in touch with Torian Insurance. The team at Torian Insurance will walk you through the eligibility requirements to see if you qualify for a BOP plan.
If you do, they'll work with the largest underwriters in the United States to find you the best customized plan at the lowest possible price. If you don't qualify for BOP insurance, don't worry. Torian Insurance offers a wide range of commercial insurance products at prices that won't break the bank. Contact Torian Insurance today to discuss your options.