Becoming a driver is an important step on the road to adulthood. But with this huge milestone in your child's life also comes the task of adding them to your car insurance policy.
This transition is an ultimate sign of trust on your part and a marker in life that will help your child navigate towards greater personal responsibility.
You're likely aware that costs are higher for inexperienced drivers because they are riskier to insure. However, with the right knowledge and guidance, you can minimize those costs while maximizing valuable coverage for your child..
When it comes to having coverage that is affordable for the whole family, you may be surprised to find that well-known insurance giants like State Farm, Allstate and Gecko are not always going to get you the most bang for your buck. But there is a huge pool of insurance companies to consider–so how do go about getting the best car insurance rate?
Read on to get answers to your common questions about adding your child to your car insurance policy and how to get the most coverage at the most affordable price.
When Should I Add My Child to My Car Insurance Policy?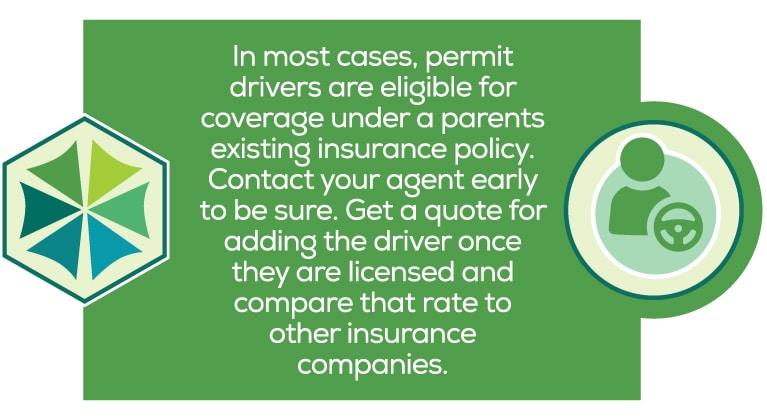 In most cases, your car insurance coverage extends to your child if they are driving with you in the car and if they have their temporary driver's permit. However, to be a fully licensed driver legally operating a motor vehicle, they need to be listed as a driver on your insurance policy.
If you contact your insurance agent ahead of time, they can time your coverage to start when your child's license goes into effect. Your child will still need to be on your insurance for as long as they are a driver and under 18 years old. After they are over 18, they'll either need to be on your policy or their own, depending on your circumstances and the insurance company rules.
Similarly, when your child becomes independent, such as after getting a job or moving to another state, talk to your insurance agent. Depending on your insurer, you may be able to keep them on your insurance if you retain ownership of the car. Otherwise, your child may need a separate policy even if you own the car.
If My Child Has Their Own Car Can They Still Be Added to My Car Insurance Policy?
Car insurance follows the car, not the driver. So, if your child will be driving your current vehicle, you aren't insuring a new vehicle. However, insuring multiple drivers changes the amount of assumed risk and driving being done, thus, increasing the possibility of an accident. This is the increase you'll see in your premium when adding a new teen or young adult driver, even without buying them their own car.
If you do purchase a car for your child or your child purchases their own car, that car will likely need to be on your insurance policy at least until your child is living on their own and driving a car that isn't part of your household. Until then, you can take advantage of multi-car discounts and policy bundling. 
Need a FAST quote for adding your child to your policy? Click Here and fill out the 4-question form.
In any case, the price increase for policies is often large, especially for the least experienced drivers. These rates decrease quickly if your child drives without any accidents for a few years. So, you may not have to view this as a permanent rate increase.
If your child will be driving a car that is necessary to anyone's livelihood, like getting to work, that's another important consideration when it comes to coverage. If a teen does become involved in a car accident, it's better to have less stress about the financial repercussions while handling any other challenges that come with accidents.
Does The Make and Model of the Vehicle Affect The Monthly Auto Insurance Cost?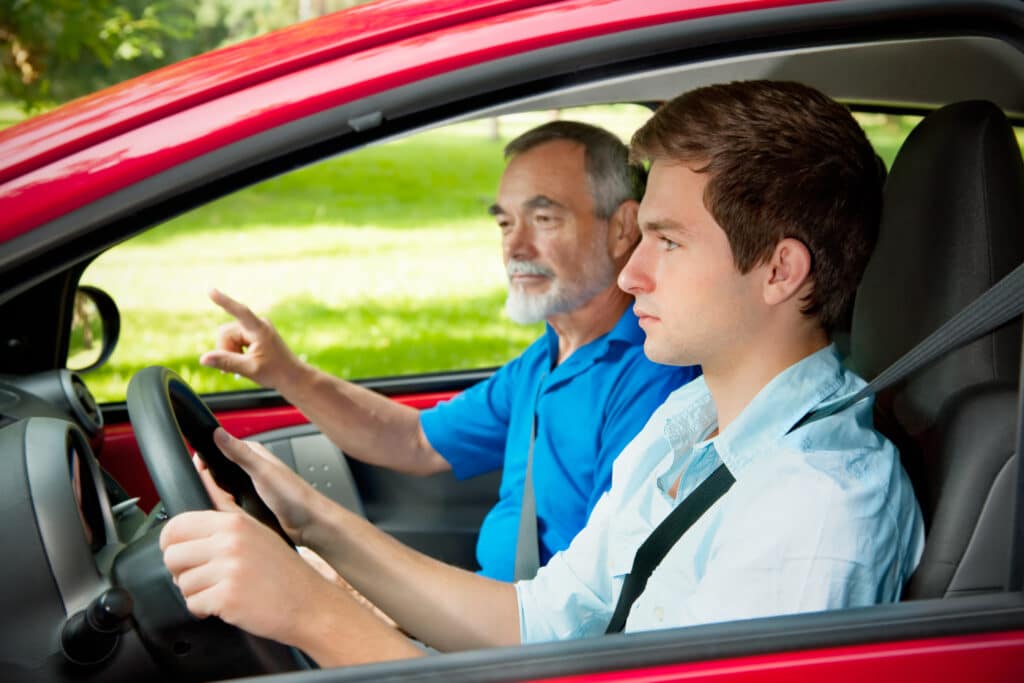 Different cars are evaluated by insurers as being riskier than others, costing more when an accident occurs. Therefore, it's wise to reach out to a reputable insurance agency for quotes before selecting a car. In some cases, newer cars with more advanced safety features will yield a lower policy quote, but the exact numbers will vary.
You'll also want to consider whether adding your child to your car insurance changes your evaluation of whether you'd prefer to have only liability coverage on a given family car versus "full" coverage. Especially for children driving newer vehicles, comprehensive and collision coverage may be a substantial expense but worthwhile for peace of mind with a newer driver.  
How Much Will It Cost to Add My Child to My Car Insurance?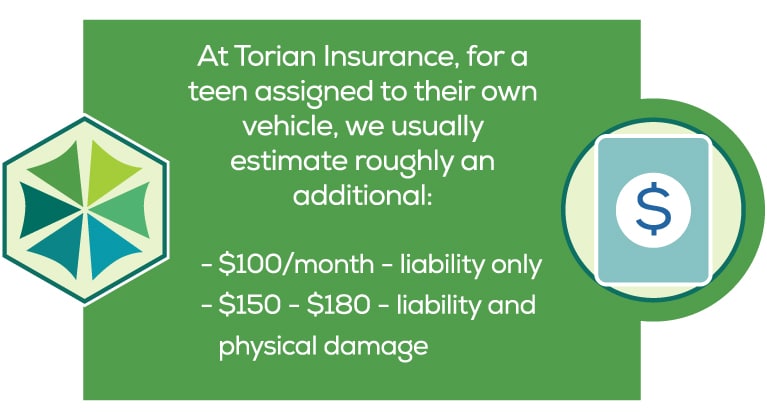 When you've budgeted a set amount for transportation-related costs, including car insurance, it can be stressful to re-evaluate these costs for your new driver. However, preparing for the costs doesn't have to be frightening. Just like preparing for other costs for your family, budgeting helps to ease the shifts you may undergo.
There are several factors that determine how much additional cost and coverage a new driver will add to a policy. Insurance companies consider things like location, gender, age, car type, length of time licensed, if there is a loan on the vehicle, if the vehicle is leased, etc. 
In the case of an adolescent driver, drivers between the ages of 16 and 24, often drive in ways that increase their risk of an insurance claim which is why insurance companies consider them high-risk. Behaviors such as not wearing a seatbelt, using a cell phone while driving, speeding, and driving under the influence of alcohol and drugs are all more common in this age range. 
If you are adding a child to a full-coverage liability car insurance policy with full-time access to your vehicle, you'll be looking at a rough cost of an additional $60-$200 a month to your costs in the state of Indiana and in the surrounding area. 
For some more context, at Torian Insurance, in the case of a teen assigned to their own vehicle, we usually estimate roughly an additional $100 a month to add a teen driver for liability only, and about $150 – $180 per month for liability and physical damage. This amount can be more or less depending on factors like gender, vehicle type, family driving history, credit score, etc.
Are There Any Discounts for Adding A Child to Our Auto Insurance Policy?
When experiencing the premium hike associated with a teen driver, you may be motivated to explore all of the possible discounts available, which can boost your savings for years after your teen driver grows up. 
There are many ways in which you can keep your car insurance costs manageable by wisely showcasing your child's driving ability as responsible or via their infrequent use of the car. 
For instance, if your child is in college more than a certain distance away and only drives your insured car on occasional weekends, you may receive a substantial discount on your car insurance premium. Why? Because it's clear that they aren't spending a large amount of time behind the wheel. 
There are also policy providers that give a discount for good grades in school, for driving low mileage, and for participating in Telematics programs. These programs use a tracker or your child's cell phone to note their driving performance and reward defensive, cautious driving habits. 
Finally, some car insurance companies off their own courses for young drivers and may offer discounts for taking a safe driving course they approve.
Does the Cost of Adding Your Child to Car Insurance Lower Over Time?
On average, your insurance rates should see a drop when your child reaches 20 years old. Other drops tend to come around the ages of 25 and 35. Because drivers aged 16 to 19 are the least experienced on average in addition to not having a fully developed brain until age 25, it is not surprising that accidents are more common during these years, increasing the insurance risk for young drivers. 
Remember that you aren't just looking for cost savings, however. A few dollars a month can purchase a higher level of coverage. It could also help you get an umbrella insurance policy that provides additional coverage for a high claim that exceeds your other coverage on things like your home or car. 
These choices add to the overall policy price tag, but you're purchasing protection. Plus, you get more protection — sometimes a lot more — when you ensure that your policy limits are sufficient if a major problem occurred.
Should My Child Contribute to The Car Insurance Costs?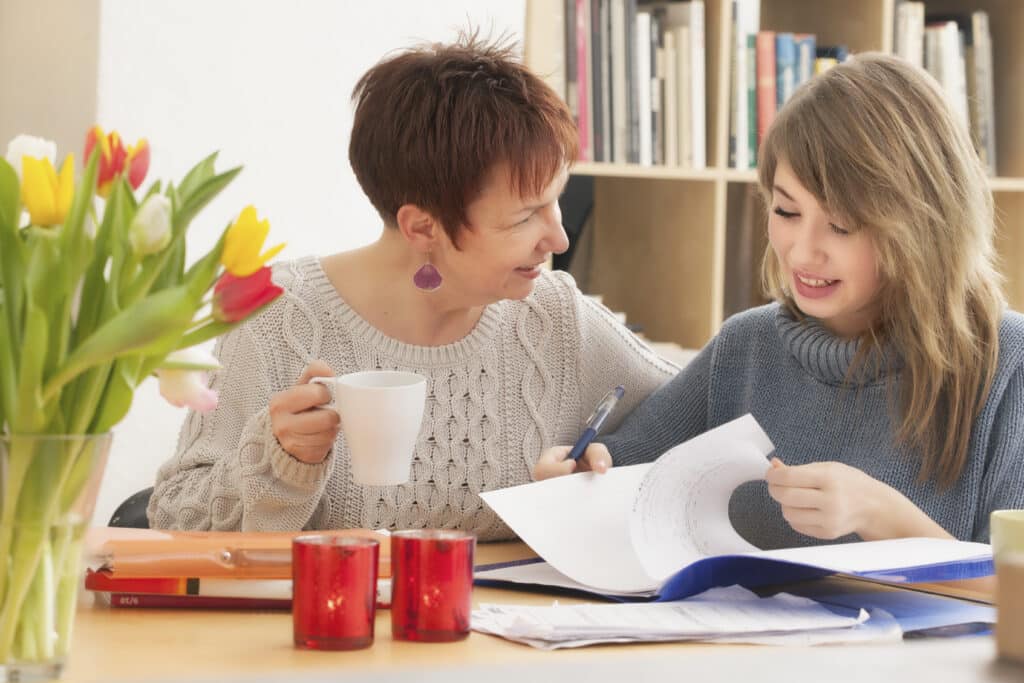 Things are simpler when everyone is insured together on one policy, but you still might have your teen contribute to the costs to help them learn about the importance of the investment and money management. 
If you decide to have your child take responsibility for some of the costs, you'll need to determine how much of the premium, you'll expect from your child at the outset, or how much they'll need to pay for gas and repair bills. You'll also want to talk about how they'll be responsible if there is an accident while they are driving.
If you decide to postpone the child taking on any financial responsibility, it still makes sense to work through the expenses clearly, before they get behind the wheel, so the child has a clear understanding of how how bad driving habits can not only lead to an accident or even land them without a vehicle for some time, but can also the costs associated with accidents, tickets, etc. 
Discussing all of this up front is the best way to establish the ground rules and avoid disagreements or conflict in the future. 
Rather than an opportunity to pass along every single cost to your child, this is a chance to pair lessons about financial responsibility with the opportunity for greater freedom — a balance that all young adults must learn as they grow up.
Do I Really HAVE to Add My Child To My Car Insurance Policy?
When you put your child driver on your car insurance, you're protecting them from legal problems. It's illegal to drive without insurance and starting them on this path when the costs are higher for them sets an excellent foundation for the future.
Think about it: if they don't get on your policy and drive just occasionally, they can still get in an accident. This uninsured accident can follow them and cause problems when they want to purchase a policy in the future.
While we're thinking about temptations, some people try to get non-owner car insurance for their teens when using borrowed or rented cars, for instance. Most companies, however, won't write a policy for them if they have access to your family's car since your child may still use your car.
Instead of cutting corners, start your conversation with minimum state-required insurance limits, even if the costs feel high. Though this change to your auto policy does burden you with additional financial responsibility, think about this cost as a source of peace and protection.
What Documentation Is Needed to Get A Quote for Adding My Child to my Car Insurance Policy?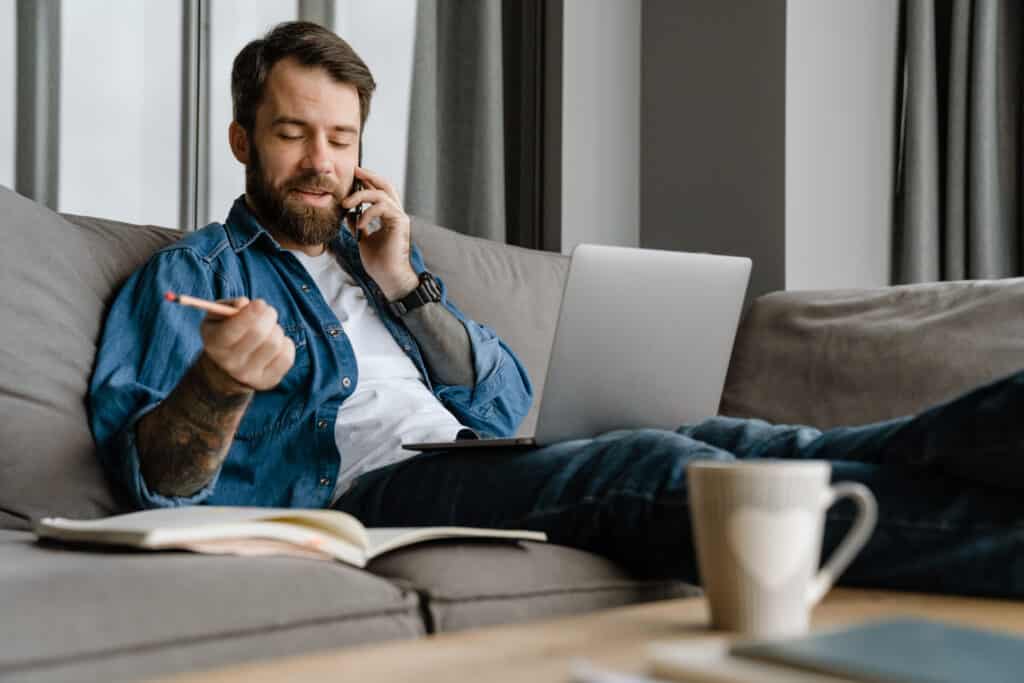 Need a FAST quote for adding your child to your policy? Click Here and fill out the 4-question form.
You'll want to have your child's name, age, and driver's license number as well as your social security number. 
To get quotes related to a different vehicle (separate from the ones you've already insured), you'll need the make, model, year, VIN, and loan/lease details on the car in question. Your trusted agent can run with that information and help you learn your options.
What Insurance Company Will Offer Me the Best Rate?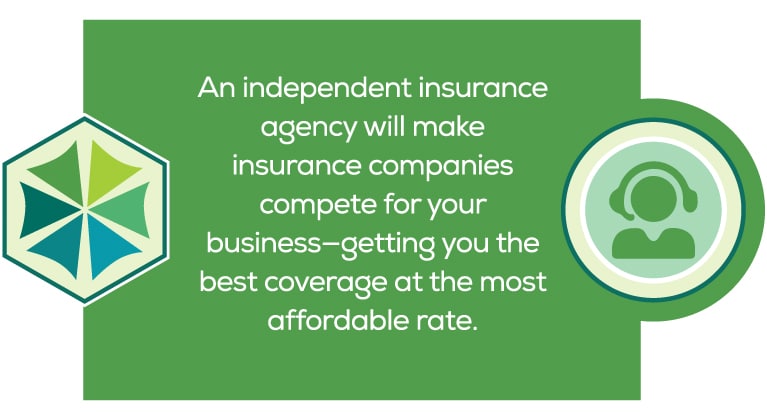 If you're unsure how to get started with this process or are considering a switch in the car insurance company you go through, getting some guidance can be your saving grace. An agent will ask the right questions to determine what kind of coverage you need, what discounts are applicable, and what factors will need to be considered. 
The search for the right insurance company can be daunting. If you search online for "car insurance near me" you're likely hit with a ton of ads from big well known insurance companies. It can be tempting to start calling all of those companies to compare prices. However, an independent insurance agency can help you find the most affordable coverage for your specific circumstance. The best part—they'll do all the comparing for you!
Seems too good to be true, right? However, it's not. An independent insurance agent isn't working for a single insurance company and selling only the products that company offers—instead they are shopping around and making insurance companies compete for your business. 
This takes all the heavy lifting off of your shoulders, especially during a life big transition, such as adding another driver to the family. So why not have someone else compare the cost and coverage options and be fed the information on a silver platter?
Torian Insurance Is Ready to Help With This New Step In Your Child's Life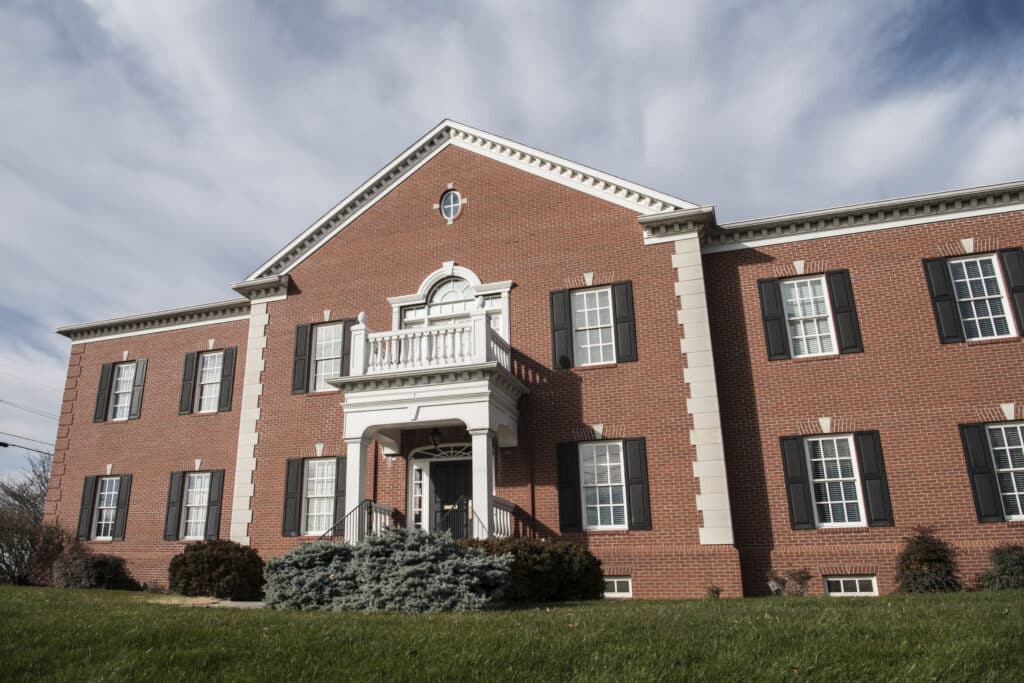 If you've had a car insurance policy for a while, you may feel like you know what good rates are. However, getting quotes from new insurers or checking out a local independent agency like Torian is a chance to get the best rates available for your circumstances.
What's more, many companies that offer good rates for a couple of adult drivers may not specialize in the discounts and programs that would most benefit your teen in the car insurance process. 
Getting new quotes gives you a better idea of the overall picture. Plus, if your portion of the policy goes up a few dollars, you may be able to recover those costs through a particular company's teen driver options.
While you can request quotes from a variety of insurers, a faster path to comparison shopping is through an independent agent like Torian Insurance. By looking at our different preferred insurers who have a track record of excellence, we can customize the policy offerings available, helping you discover the best option for your family.
Letting your child take the wheel and drive independently is a huge milestone for both you and the new driver.  It's all part of growing up, gaining independence, and providing a path to adult responsibilities. Let Torian Insurance help you through the process of finding the right insurance for your new driver. Contact Torian today to get started.