You did it! You got a new car. But with a new car comes new responsibility. One such responsibility is a requirement to keep your car insured. You might be wondering:
Do I really need full coverage car insurance?
What is full coverage insurance anyway?
What are the key points in the liability vs. full coverage insurance comparison?
Read on to learn the answers to these questions.
Different Auto Coverage Types
Although car insurance is required by law for any car on the road, you have options, and unless you've financed your car, full coverage car insurance isn't your only one. You can also choose the less expensive liability-only insurance and even add bolt-ons like personal injury protection and collision coverage. Both options offer some sort of coverage, and you'll have to pay deductibles if you need to use the insurance, but other than that, they're very different.
Of course, each option comes with its own list of pros and cons, so it's important to consider the different coverage types carefully before you make your final decision.
Liability-Only Car Insurance
Liability-only car insurance is the minimum amount of protection most states require for you to drive your car on a public road. It's also the lowest-cost car insurance option, but there's a reason for that.
As the name "liability-only" suggests, this type of coverage only covers damages you cause to someone else's person or property. So, if you're at fault in an accident, liability-only car insurance will pay for the other person's (or people's) medical bills and vehicle repairs to the predefined limit in the insurance contract.
That means if you get in an accident with liability-only car insurance, your medical bills and car repairs associated with the accident are your responsibility.
Collision Coverage
Collision coverage is a relatively low-cost form of coverage you can typically add to your liability-only plan for under $300 per year on average. However, this can be much higher depending on the value and performance level of the vehicle as well as the policy holder's age, driving record, and claims history.
Collision coverage pays for damages to your car as a result of a collision. That means this type of coverage will take care of your repair costs if your vehicle is damaged as a result of a collision with another vehicle, tree, or any other collision-based accident with the exception of collision with an animal which is paid under the comprehensive portion of the policy. It will also pay you the value of your vehicle if your vehicle is totaled as a result of a collision.
$300 per year is a relatively minimal expense to pay for that kind of peace of mind.
Comprehensive Coverage
Comprehensive coverage is another form of coverage that has a bit of a misleading name. "Comprehensive" makes you feel like everything's covered, but that's not the case. The same argument can be made for the term "Full Coverage" which makes people believe they are fully covered, which is never the case.
Comprehensive coverage is designed to cover the costs of your vehicle repairs only for noncollision damages. That means you're covered if:
Somebody vandalizes your car
A tree falls on your car while it's parked
Hail leaves your windows broken and dents all over your car
The glass breaks such as a windshield crack, a chip from a rock, etc.
A freak wind storm pushes your car into a building
Comprehensive coverage will not pay for your damages in instances like:
You get into a car accident with another vehicle
You hydroplane and slide into a light pole
You attempt to avoid an obstacle and hit a tree
Although comprehensive car insurance only covers your vehicle in events like vandalism and freak accidents, it might be worth bolting on to your liability-only plan. That's because it's one of the lowest-cost coverages available, with prices typically under $150 per year.
Uninsured and Underinsured Motorist Coverage
Uninsured and underinsured motorist coverage is designed to protect you, the people in your vehicle, and your vehicle itself in accidents caused by other drivers who are uninsured or underinsured.
Imagine driving down the road and getting in an accident because someone else ran a stop sign. You think, "It's obviously the other guy's fault, I'll be OK," only to find the other guy doesn't have insurance.
What happens next?
If you only have liability insurance, the damages may be the other driver's responsibility, but you may have to file a court case to get them to pay for it, or worse, they may never pay at all. That leaves you and your passengers to cover your own damages.
Uninsured and underinsured motorist coverage ensures that you're not left to your own devices in these situations. Instead, this coverage kicks in, covering the costs of repairs and medical bills not covered by the other driver.
Medical Payments Coverage
Medical payments coverage, or personal injury protection, is as straightforward as it sounds. This is a form of coverage you can bolt on to a liability-only insurance plan that covers your medical costs and the medical costs of any passengers incurred as a result of a car accident.
Personal injury protection typically costs under $500 per year, which is far less than the average cost of a single-day stay in the hospital at a whopping $11,700!
Medical payments coverage also helps pay for funeral arrangements in the event that a car accident leads to the death of the driver or passengers.
Full Coverage Car Insurance
Full coverage car insurance is a truly comprehensive type of car insurance that covers you, your passengers, and your vehicle in just about any event that could lead to you incurring an added expense. Full coverage insurance includes all the forms of coverage above. It's a combination of bodily injury liability with physical damage (comp and collision) coverage. Though this is not an official insurance term or definition, it's been adopted by consumers and many agents to represent this combination.
To recap, when you buy this type of insurance, you get:
Liability coverage. This covers damages to someone else or their property in the event of a car accident.
Medical payments coverage. This coverage ensures that you don't have to worry about medical bills if you're injured in a car accident.
Collision coverage. This covers your car's repairs should you collide with another vehicle or any other object.
Comprehensive coverage. Coverage for all of those "I never thought it would happen to me" moments.
Uninsured motorist and underinsured motorist coverage. Coverage for if you're involved in an accident with someone who doesn't have adequate car insurance.
When You Need Full Coverage
Full coverage gives you the most coverage, and peace of mind for that matter. It's also the most expensive form of auto insurance you can buy. With that in mind, do you really need to carry a full coverage plan?
In some cases, the answer is a resounding yes. Here's when you should strongly consider a full coverage plan:
When you have a vehicle loan. I haven't heard of a single vehicle financing company that doesn't require full coverage car insurance as a condition of the loan. So, if you have a loan, you'll have to have full coverage.
When you can't afford to replace your vehicle. What would you do if you suddenly lost your vehicle? That happens to thousands of people every day across the United States. If you don't have the cash on hand to replace your car if it gets destroyed in an accident, you should strongly consider full coverage because it will pay you the value of your vehicle if it's totaled.
When you have under $25,000 in savings. Car accidents can be expensive. With a single-day stay in the hospital costing more than $11,000 on top of vehicle repairs you'll be required to cover if you don't have adequate coverage, it's important that you have plenty of money in the bank if you forego full coverage car insurance.
What Isn't Included in Full Coverage Car Insurance?
The name full coverage can be a bit misleading because it doesn't necessarily provide "full" coverage. Every piece of coverage in your insurance plan has limits. For example, your vehicle's damages are only covered up to the value of your vehicle. So, if your car is worth $14,000 and it's totaled, but you owe $16,000 on it, you'll be required to pay the additional $2,000 in the end — that is, unless you have gap insurance.
Other types of coverage have steadfast limits. For example, in Florida, you must have a minimum of $10,000 in liability coverage and $10,000 in personal injury protection. If you cause more than $10,000 in damage to someone else's property, or your medical bills are over $10,000 and you have a plan with these maximums, you'll have to pay the difference between the actual cost of damages and your coverage caps.
Full coverage plans also typically exclude coverage for:
General maintenance or negligence
Excluded drivers
International travel
Business use
Items that were stolen from your car (mainly because these items are usually covered elsewhere, like home, condo, or renters policies)
Police seizures
Vehicle modifications and customizations
How Much Does Full Coverage Cost?
Because full coverage insurance comes with all the types of coverage above, it's also the most expensive form of auto insurance, with average rates of around $1,800 per year. This would be on the high side, but it is dependent on several factors, but your cost might be very different. As a real life example, if you have 4 vehicles on a personal auto policy – they average less than $1,000 per year and all carry what full coverage with high liability limits.
Insurance companies take several factors into account when they quote your price, including:
Your age. Younger drivers are more likely to make unsafe moves on the road.
Your car. You're much more likely to get in a car accident in a sports car than in a soccer-mom van.
How much you drive. The more you're on the road, the more risk you pose to the insurance company.
Your car's value. More expensive vehicles cost more money to insure.
Your location. The cost of vehicle repairs can vary wildly from one location to another. Moreover, consumers in highly populated areas are more likely to be involved in an accident than consumers in rural areas.
Pros and Cons of Full Coverage
Deciding whether to purchase a full coverage insurance plan can have significant financial implications on both sides of the coin. It's important to carefully consider the pros and cons of the decision before you make it.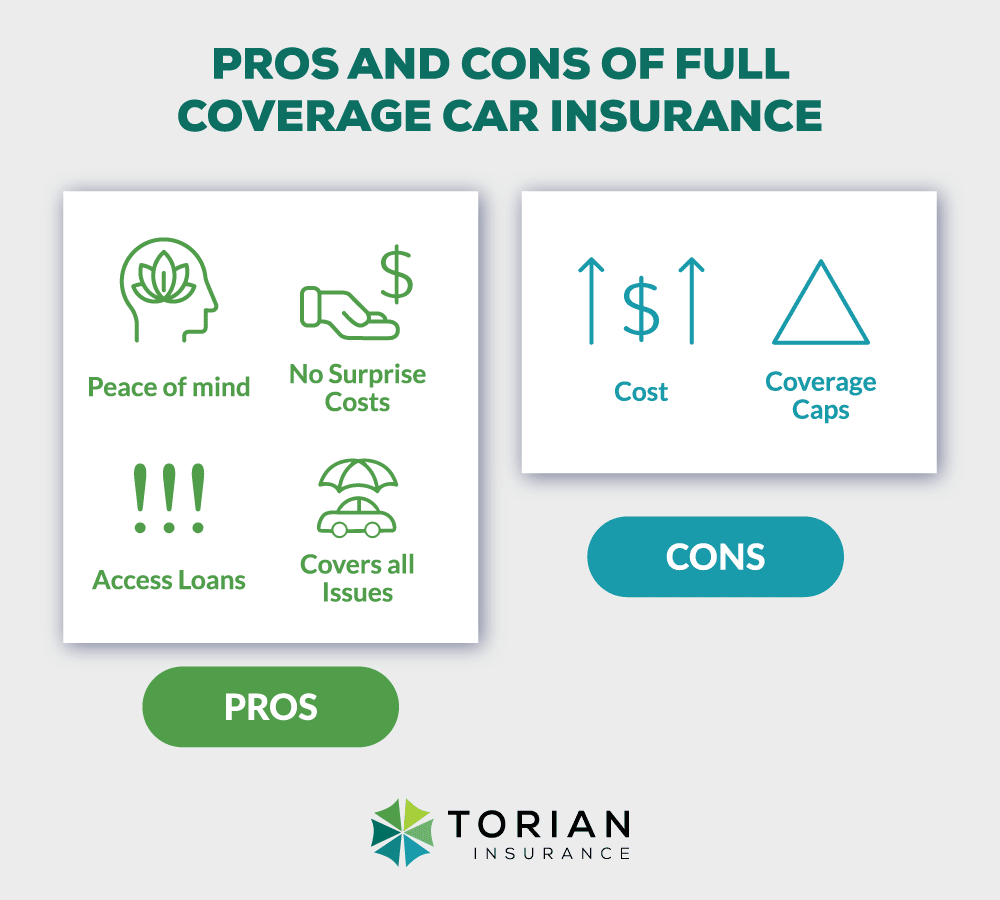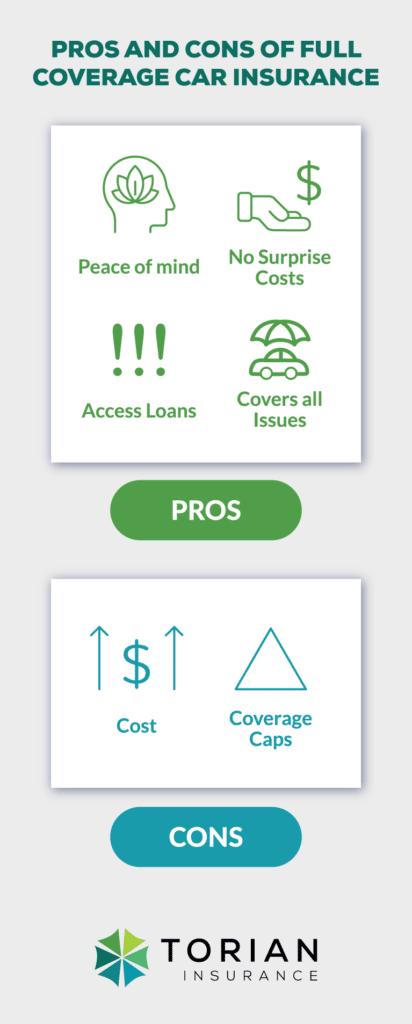 Full Coverage Insurance Pros
There are several benefits to having a full coverage car insurance plan. That's why so many people are willing to shell out more than a thousand dollars per year on one of these policies. Some of the biggest advantages to choosing a full coverage plan include:
Peace of mind. When you have full coverage, you'll sleep well at night knowing that if something happens on the road, you won't have to face a significant financial burden as a result.
Avoid surprise costs. Car accidents are called accidents for a reason. Nobody plans on them. However, if you're in an accident and you don't have full coverage, it could cost you thousands or even tens of thousands of dollars in the long run.
Access loans. You have to purchase a full coverage plan if you want an auto loan. This could even help you get access to money when you're in a pinch if your car is already paid off.
Covers most issues. Whether damages are caused by a hit and run or an act of God, your damages will be covered if you have a full coverage plan.
Full Coverage Insurance Cons
Full coverage sounds great, but it's not the perfect solution for everyone. There are a couple of drawbacks to choosing a full coverage plan:
Cost. Full coverage car insurance is the most expensive type of car insurance you can buy, excluding state-required insurance associated with reckless driving and DUIs.
Coverage Caps.. Even full coverage car insurance plans have coverage caps. In serious accidents, your coverage caps may not cover all of your costs.
The Bottom Line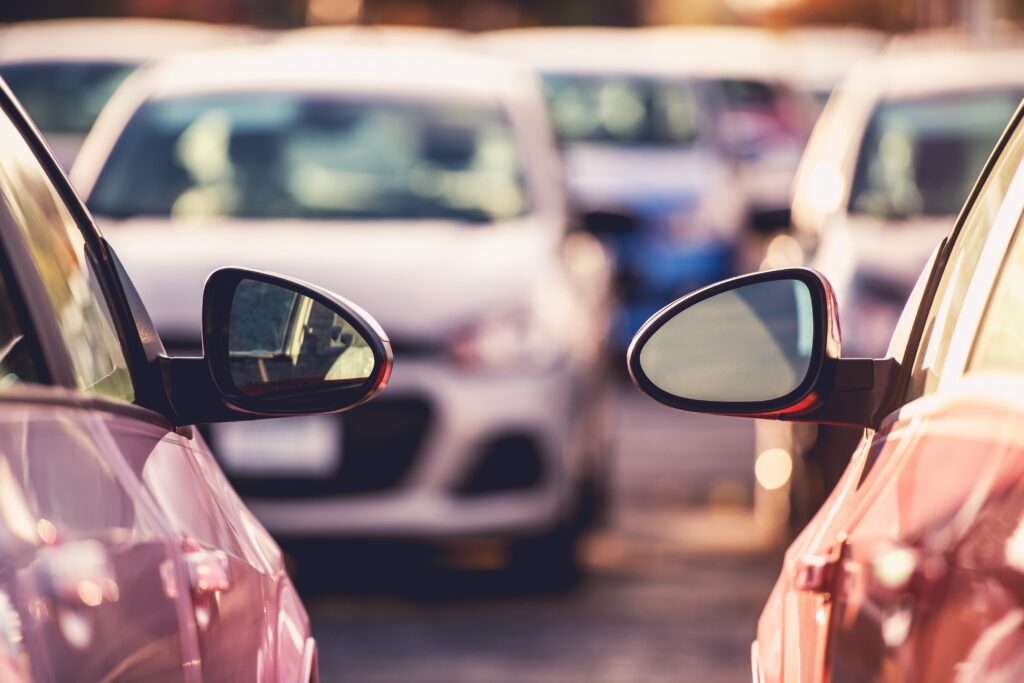 So, which is the best coverage for you? If you're like most people, full coverage is your best option. As you make your decision, think about the following:
How expensive is your car? If your car is inexpensive and easy to replace, you may want to consider a liability plan with a few bolt-ons for personal injury and other beneficial forms of coverage. If you have a car that's difficult to replace, full coverage is likely your best bet.
Can you afford an accident? Regardless of the cost of your car, accidents can be costly. You may have to pay for someone else's property on top of their medical bills as well as your own. Can you afford to cover these expenses if you're in an accident? Would you even want to?
Regardless of how you see the full coverage vs. liability-only question, the team at Torian Insurance can find you the best coverage for the best price. Get your free quote now!