Weddings commemorate major turning points in the lives of loved ones as they embark on the new and exciting journey of eternal partnership. Some 2.47 million weddings are expected to occur in 2022, and with wedding costs rapidly averaging up to $24,000, it makes sense to think about the expenses. Between catering, entertainment, photography, and venue rental costs, weddings can quickly turn into a significant investment.
Unfortunately, a sudden change of plans or unforeseen accident can force a postponement of the event, causing the price tag of a wedding to rise even further. This is where a wedding insurance policy comes into play. Read on to explore everything you need to know about wedding insurance, including the types of expenses it covers and how much a basic policy can cost.
What Is Wedding Insurance?
When you buy wedding insurance, you're purchasing a limited-term policy that provides financial coverage for a range of expenses or liabilities associated with the event. For instance, if the catering company you hired to service the wedding cancels at the last minute, a wedding insurance policy will cover that financial loss up to the coverage limit listed on the policy. This policy can also cover damage to property or personal injuries that may occur at the venue.
To determine if you need wedding insurance, it's a good idea to examine the potential financial repercussions of postponement due to weather, venue cancellations, or other issues. After all, much of a wedding's itinerary must be planned for weeks or months, and many vendors will charge a deposit to reserve their services for the day.
Without wedding insurance, you may be on the hook for any pending or paid charges when plans change, even if it's due to circumstances beyond your control. For this reason, it's often a good idea to consider protecting your investment with a wedding insurance policy that suits your unique situation.
What Does Wedding Insurance Cover?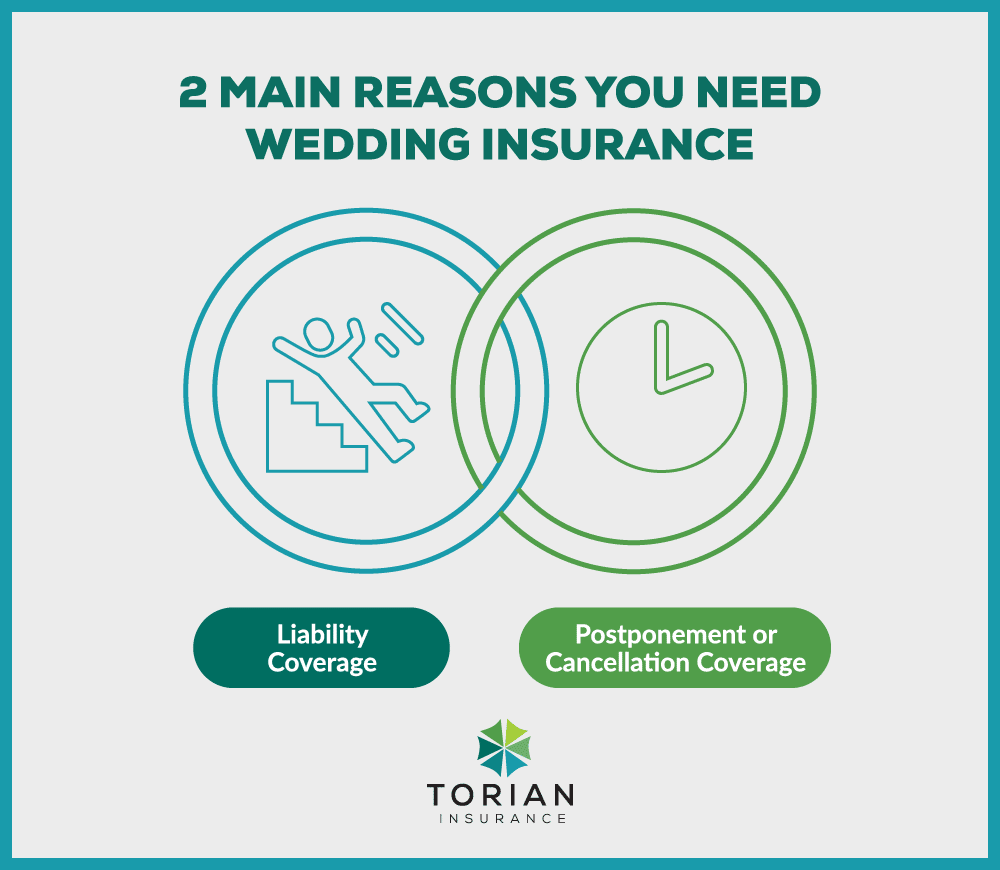 Wedding insurance policies cover a variety of circumstances that vary from provider to provider. With that said, there are two main types of coverage that may be purchased separately or together as part of a comprehensive package.
Liability Coverage
To protect against property damage or personal injury at your wedding, you will need wedding liability insurance. This coverage may be included at certain venues, but it's advisable to check well in advance to be sure. Having liability coverage will ensure you are not held responsible for paying out of pocket to cover repair costs or hospital bills if there's an accident.
Postponement or Cancellation Coverage
This type of coverage provides reimbursement for financial losses stemming from the wedding being postponed or canceled altogether. Commonly covered reasons for rescheduling or canceling a wedding may include severe weather events, the unexpected closure of the venue, vendor bankruptcy, or illness.
COVID-19 has caused many weddings to be cancelled or postponed that insurance companies are now hesitant on providing cancellation and postponement coverage. It's important that you know what your policy will and won't cover before signing on the dotted line. A reputable insurance agency can help you find the right insurance for you by vetting different companies and asking important questions about what the policy will cover.
Additional Coverage Considerations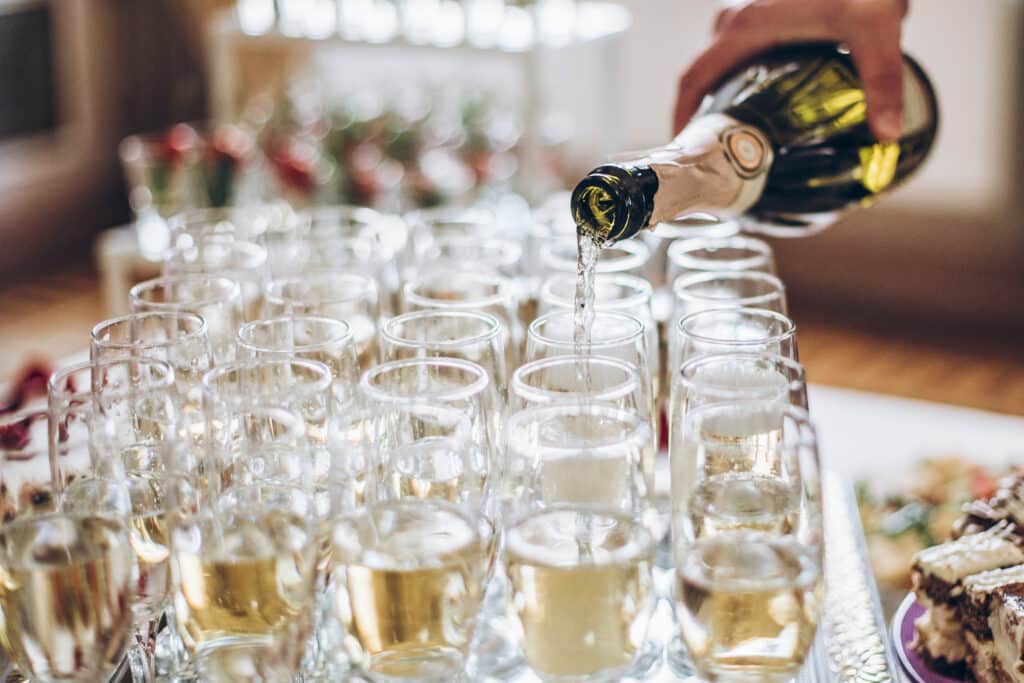 Be sure to discuss all the terms and conditions of your wedding insurance policy to ensure you're not overlooking any potential financial burdens or liabilities that are not explicitly outlined in the agreement. Depending on the circumstances, you may need to add riders to the policy to protect against certain possibilities. Some additional coverage considerations may include:
Military Service: If you or your spouse serve in the military, you may want to make sure your wedding insurance policy covers sudden deployments or retracted leave requests.
Clothing Damage: This coverage extends to wedding gowns, tuxedos, or bridesmaid dresses that have become damaged before the wedding.
Gift Protection: Insurance for wedding presents can reimburse you for damaged, lost, or stolen gifts.
Liquor Liability Coverage: If you plan to offer alcohol at your wedding, liquor liability coverage will protect you from paying out of pocket for property damage or injuries that occur due to intoxication.
Honeymoon Coverage: If you're planning to honeymoon in another state or country, honeymoon insurance will provide reimbursement when hotels cancel reservations or when severe weather impacts flight plans.
Most wedding insurance providers will work closely with you to create an insurance policy that works best for you. Take the time to discuss your concerns in detail when researching coverage options that are right for your budget and unique situation. In many cases, your insurance agent will be happy to create a customized policy to cover liabilities, postponements, or cancellations that have the highest likelihood of occurring.
What Does Wedding Insurance Not Cover?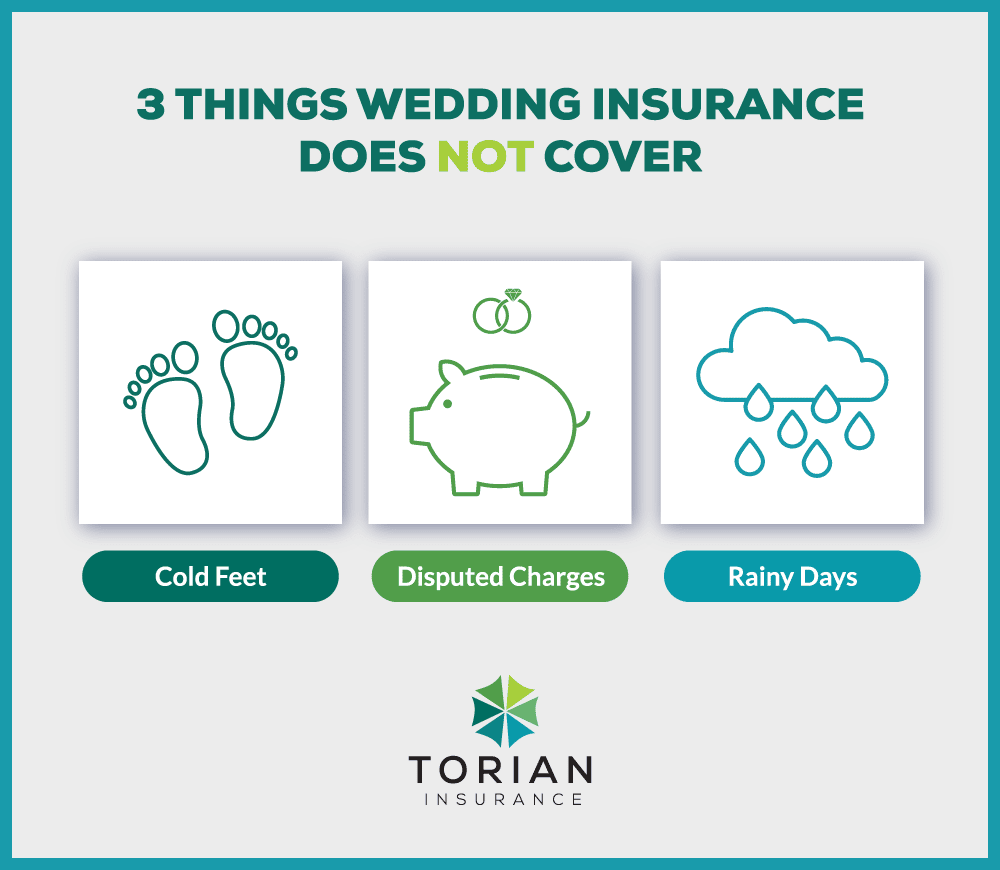 While wedding insurance protects against many different unplanned incidents, there are several exceptions that are important to know. Here are 4 common situations that wedding insurance will not cover:
Cold Feet: Wedding insurance policies will generally not cover cancellations due to the bride or groom having a change of heart.
Disputed Charges: If the wedding is postponed or canceled due to the costs of the venue, catering, or other services, wedding insurance will not provide reimbursement for the expenses.
Rainy Days: Wedding insurance will not cover moderately rainy days or otherwise low-impact weather events that do not prevent guests from arriving at the wedding.
Wedding insurance providers may or may not provide coverage for destination weddings or pandemic-related cancellations. Be sure to carefully discuss any mitigating circumstances that could occur with your insurance agent to determine the extent of your coverage. This pertains to flight delays, Covid-19 travel restrictions, or other events not explicitly addressed in your policy.
How Much Does Wedding Insurance Cost?
The total cost of purchasing a wedding insurance policy will vary depending on various factors. Wedding location, its projected cost, and the coverage options you select will all impact the cost of your premium.
Some providers may offer wedding cancellation or postponement coverage for as low as $100 while wedding liability coverage tends to fall in the $100 to $200 range. Keep in mind that these prices will go up as the total cost of the wedding increases.
What's the Difference Between Special Event Insurance and Wedding Insurance?
Essentially, wedding insurance and special event insurance cover the same types of circumstances. Special event insurance is a catch-all term that may include any number of scheduled events, including weddings, bar-mitzvahs, concerts, or work conventions. Wedding insurance, on the other hand, is specifically made to cover expenses that occur before, during, or just after the big day. For example, if your wedding insurance policy includes honeymoon coverage, you are eligible for reimbursement of travel expenses due to flight or hotel accommodation cancellations.
Tips to Remember About Wedding Insurance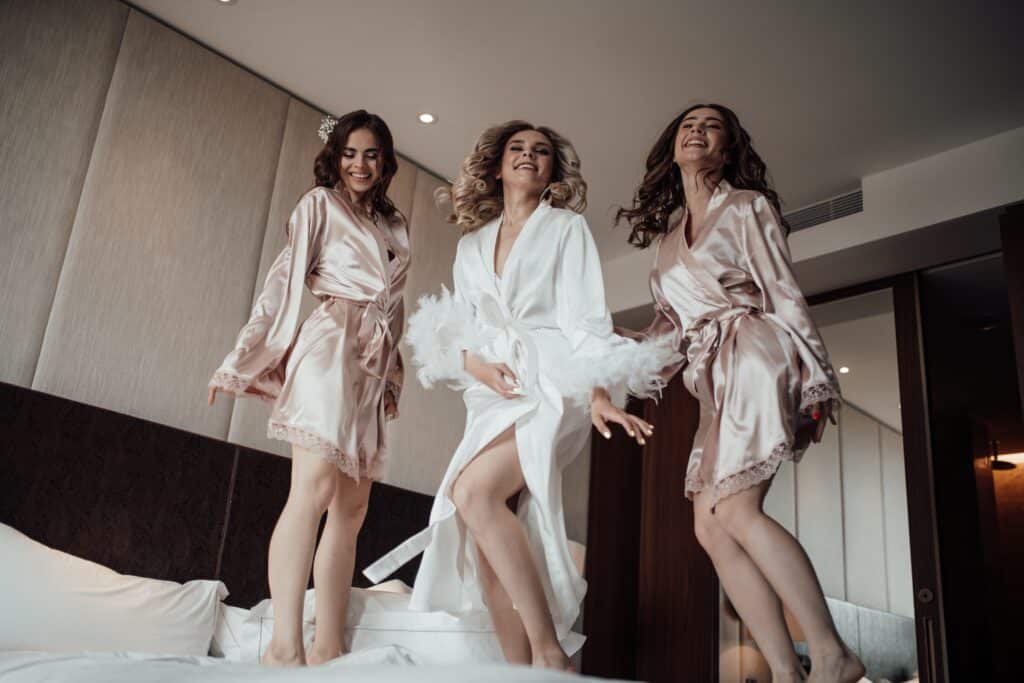 With so much that goes into organizing a wedding, it's easy to get overwhelmed with all the details. If you're unfamiliar with wedding insurance or not sure what kind of policy you need, don't get discouraged. Here are some helpful tips that can make navigating wedding insurance a little bit easier.
Homeowner's Insurance Only Provides Limited Protections
If you're hosting the wedding on your property, it's important to note that homeowner's insurance may only cover certain liabilities, even if you purchase an expanded umbrella policy. In addition, the coverage limit on your current homeowner's insurance policy may not be enough to provide adequate protection against every type of unforeseen incident.
Be Sure to Explore All Your Coverage Options
Carefully consider which coverage options you need well before the wedding date. Remember, weddings are busy events that rely on many moving parts to work seamlessly together. That means there are ample opportunities for accidents to happen that can present serious financial risks to the hosts involved. Be sure to carefully evaluate all potential damages and liabilities before selecting a policy so you're not on the hook for an incident you thought would never happen.
Some Venues May Only Be Insured for Certain Liabilities
Wedding venues will typically provide liquor liability coverage for their events, but if your guests cause damage to the property, you may be held financially responsible if you don't have wedding insurance that covers it. Be sure to ask each vendor what types of insurance coverage are included in their contract ahead of the wedding, adding riders to your wedding policy as needed to fill any gaps.
Carefully Review the Terms of Your Contract
Wedding insurance policies may contain any number of caveats or special conditions that determine whether or not a claim is approved. For instance, coverage for the loss of an engagement ring or gift may expire within 24 hours of the wedding.
Another example could be that the equipment you rented at a venue becomes damaged by a guest, and your wedding insurance policy doesn't offer reimbursements for the costs of replacing other people's property.
Wedding Insurance Provides a Safety Net for Your Big Day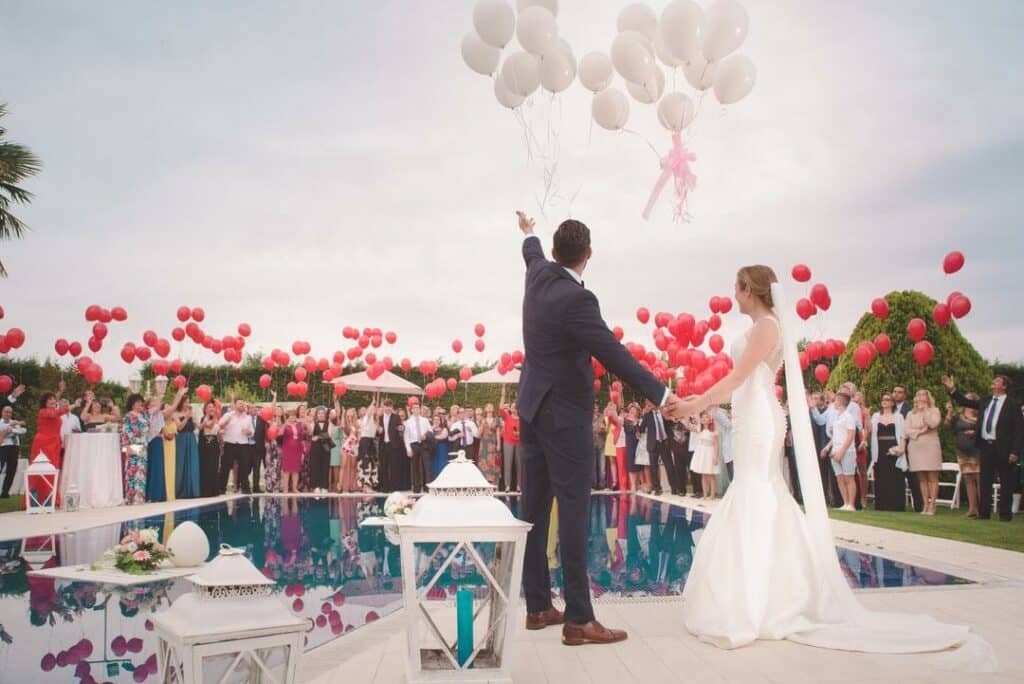 Aside from marking a major turning point in your life, your wedding is an investment that should be fully protected. At Torian Insurance, we will help you select a wedding insurance policy that caters to your most pressing needs and concerns so you can focus on enjoying your big day without any stress or distractions.
If you're ready to learn more about opening a wedding insurance policy, visit Torian Insurance today to get started and our team of friendly associates will walk you through the process.